Cars, Guitars & Bars of Music Series: #1 "Maneater"
To celebrate the upcoming John Oates-curated Cars & Guitars exhibit at Amelia Island Concours D'Elegance in March 2019, the Change of Seasons Book Club put together this special series of story vignettes about Cars, Guitars, and Bars of Music – three passions that have been ever-present throughout John Oates' legendary career. The series is compiled from "book club" research and much-appreciated contributions from John Oates himself. Enjoy!
"Maneater"
CARS
The eighties marked the height of Hall & Oates popularity and marked the years when Oates procured quite a nice car collection.
John's auto racing career also took off in the 80's. After racing in a number of amateur SCCA races, he began competing in various professional series. But after a crash at Road America in 1985, John put racing aside to ensure a long healthy musical life.
GUITARS
This tale about an Oates Takamine guitar begins in the 80's – a great story and may explain why John still owns the guitar today. Check out a video excerpt below from Reverb's Song Stories series and watch John talk Takamine.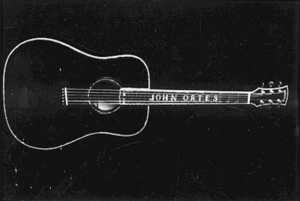 John also owns a custom made Ron Volbrecht guitar which he got in the 80's, a gift from his manager. It looks a little different now though. The video from Rock & Review below explains:
BARS OF MUSIC
The Maneater 80's are long gone, but the song endures. These days Oates plays it with a sound that echos his initial inspiration – with a reggae vibe.