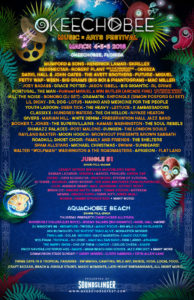 OTHER PERFORMERS INCLUDE KAMASI WASHINGTON, THE METERS' GEORGE PORTER, JR. & ZIGABOO MODELISTE, AND THE PRESERVATION HALL JAZZ BAND HORN SECTION
February 3, 2016, NASHVILLE, TN – Okeechobee Music & Arts Festival will make musical history with "PoWoW! A Live Superstar Mashup," a once-in-a-lifetime collaborative concert that will, for the first time ever, unite acclaimed GRAMMY Award-winning superstar vocalist Miguel with visionary frontman Win Butler of GRAMMY Award-winning Arcade Fire. Together they will lead a genre-busting band of master musicians that include the Rock & Roll Hall of Fame guitarist/singer/producer/songwriter John Oates (of Hall & Oates), Kamasi Washington, George Porter, Jr. and Zigaboo Modeliste, the Preservation Hall Jazz Band, Chris Karns, and Eric Krasno & Neal Evans.
Oates notes, "I am really honored and stoked to be the musical director for the first PoWow at Okeechobee; the 2013 Superjam at Bonnaroo was one of my favorite experiences as a musican and this PoWow is going to take it to another level. Looking forward to working with Paul Peck again and can't wait to collaborate with Miguel, Win Butler, and all the other incredible players and performers to see what we'll come up with, it's going to be a one time only crazy groove experience."
"PoWow! A Live Superstar Mashup" has set the stage for an historic moment for artists and audience alike. Miguel and Win Butler will share the spotlight as co-creative directors, while John Oates will serve as the music director of this virtuoso group. Longtime Bonnaroo SuperJam director Paul Peck will produce the show. Peck and Oates also worked together on the legendary Bonnaroo 2013 Rock & Soul Dance Party SuperJam that paired the Hall & Oates vocalist with Jim James (My Morning Jacket), and Brittany Howard (Alabama Shakes), and also included Zigaboo Modeliste and Preservation Hall.
Major special guests – both announced and unannounced – will take the stage for PoWow at Okeechobee, guaranteeing an unforgettable evening of surprises, invention and excitement.
OKEECHOBEE PoWoW! lineup below:
Miguel & Win Butler (Arcade Fire)
John Oates (Hall & Oates)
George Porter, Jr. & Zigaboo Modeliste (The Meters) Kamasi Washington
Preservation Hall Jazz Band
Eric Krasno (Soulive)
Chris Karns
Plus Very Special Guests
For additional information, please visit okeechobeefest.com, facebook.com/okeechobeefest, twitter.com/okeechobeefest, and instagram.com/okeechobeefest.
ABOUT JOHN OATES
John Oates is one half of one of rock's most successful duos of all time, Hall & Oates, as well as an accomplished solo artist. He has sold over 80 million albums, is a member of the Songwriters Hall of Fame, and a BMI Icon. In addition to his continuing touring with Daryl Hall, John completed a world solo tour with J.O.B. (John Oates Band) and has been producing and writing with some of the most well known artists in the pop, R&B and Americana genres. In 2014 he was inducted in to the Rock & Roll Hall of Fame, along with Daryl Hall, and released his fifth solo album Good Road To Follow. In January 2015, high definition music channel Palladia debuted his TV special Another Good Road, which was also released as a DVD with live CD. He is currently working on a memoir with St. Martin's press and developing a new TV show Good Road To Follow spotlighting American Roots music.
ABOUT OKEECHOBEE MUSIC FESTIVAL
Recently named by the New York Times as one of the places "Where Music Lovers Should Go In 2016", Okeechobee Music & Arts Festival boasts an extraordinary multi-genre bill, with more than 110 artists, bands, and DJs from around the globe performing across five signature stages. Headliners include Kendrick Lamar, Mumford & Sons, and Skrillex, alongside a stunning line-up that also features Robert Plant & The Sensational Space Shifters, Daryl Hall & John Oates, Bassnectar, Odesza, The Avett Brothers, Future, Fetty Wap, Big Grams (Big Boi & Phantogram), Jason Isbell, Mac Miller, Ween and many more. For complete details and further updates, please see okeechobeefest.com.