JOHN OATES ANNOUNCES NEW 2018 TOUR DATES IN SUPPORT OF CRITICALLY-ACCLAIMED ALBUM ARKANSAS
July 10, 2018 – Nashville, TN. Rock and Roll Hall of Fame member John Oates, along with his group The Good Road Band, has added eight further dates in the US and three dates in the UK to their 2018 tour schedule in support of Oates' critically-acclaimed solo album, Arkansas. The tour kicks off September 14 in Pittsburgh at the Carnegie Lecture Hall. Tickets for these newly announced concerts are on sale now.
Tour Dates:
September 14 – Carnegie Lecture Hall: Pittsburgh, PA
September 15 – Rock and Roll Hall of Fame: Cleveland, OH
September 17 – Howard L. Schrott Center for the Arts: Indianapolis, IN
September 18 – Dakota Jazz Club: Minneapolis, MN
September 19 – Dakota Jazz Club: Minneapolis, MN
September 23 – Borderland Festival @ Knox Farm State Park: East Aurora, NY
September 26 – Mesa Arts Live: Mesa, AZ
September 27 – Sweetwater Music Hall: Mill Valley, CA
October 15 – Vicar Street: Dublin, Ireland
October 17 – RNCM Theatre: Manchester, UK
October 19 – Cadogan Hall: London, UK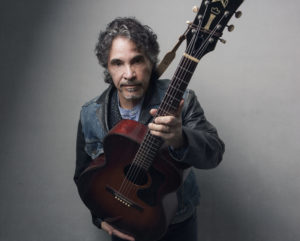 About the ARKANSAS Album:
The project originally began as a tribute to Oates' idol, Mississippi John Hurt. During a series of Nashville recording sessions, it evolved organically to become a unique collection drawing from a wide range of Oates' musical influences. Asked about the style and sound of Arkansas, John says, "It's like Dixieland, dipped in bluegrass, and salted with Delta blues."
Recorded at Addiction Studios in Nashville, the album was produced by Oates and David Kalmusky. Oates teamed with an amazing group of accomplished and rising stars in the Americana music world, "The Good Road Band". The impressive lineup on the record consists of Sam Bush on mandolin, Russ Pahl on pedal steel, Guthrie Trapp on electric guitar, Steve Mackey on bass, Nathaniel Smith on cello, and Josh Day on drums and percussion. With this incredible band, Oates shines a light on music from America's past long before the birth of rock 'n' roll.
About John Oates:
John Oates is one half of the best-selling duo of all time, Hall & Oates, as well as an accomplished solo artist. A member of the Rock and Roll Hall of Fame and the Songwriters Hall of Fame, Oates has recorded six solo albums and the 2015 DVD docu-concert Another Good Road. Influenced by R&B and folk music while growing up near Philadelphia, Oates was honored as a BMI Icon in 2008. In 2016, Hall & Oates received a star on the Hollywood of Fame. In addition to his solo shows, Oates continues to tour with Daryl Hall, playing sold-out concerts around the world. St. Martin's Press released the paperback of Oates' memoir, Change of Seasons, May 29, which includes new content. Oates resides in Nashville.

Review copies of the album are available upon request. Oates is available for interviews. Visit www.johnoates.com for more details.